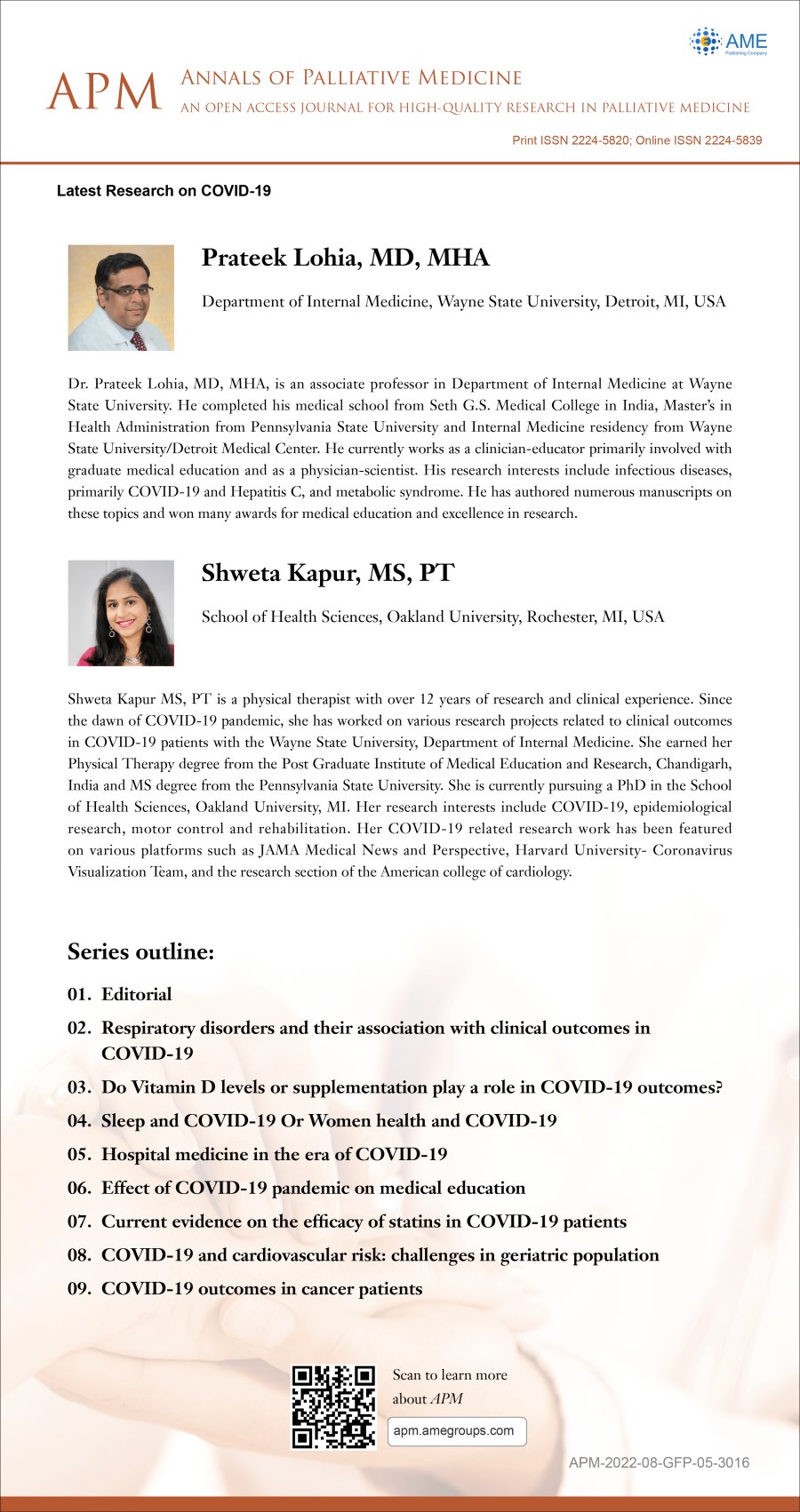 This special series on "Latest Research on COVID-19" is edited by Dr. Prateek Lohia and Ms. Shweta Kapur.
Prateek Lohia, MD, MHA
Department of Internal Medicine, Wayne State University, Detroit, MI, USA
Dr. Prateek Lohia, MD, MHA, is an associate professor in Department of Internal Medicine at Wayne State University. He completed his medical school from Seth G.S. Medical College in India, Master's in Health Administration from Pennsylvania State University and Internal Medicine residency from Wayne State University/Detroit Medical Center. He currently works as a clinician-educator primarily involved with graduate medical education and as a physician-scientist. His research interests include infectious diseases, primarily COVID-19 and Hepatitis C, and metabolic syndrome. He has authored numerous manuscripts on these topics and won many awards for medical education and excellence in research.
Shweta Kapur, MS, PT
School of Health Sciences, Oakland University, Rochester, MI, USA
Shweta Kapur, MS, PT is a physical therapist with over 12 years of research and clinical experience. Since the dawn of COVID-19 pandemic, she has worked on various research projects related to clinical outcomes in COVID-19 patients with the Wayne State University, Department of Internal Medicine. She earned her Physical Therapy degree from the Post Graduate Institute of Medical Education and Research, Chandigarh, India and MS degree from the Pennsylvania State University. She is currently pursuing a PhD in the School of Health Sciences, Oakland University, MI. Her research interests include COVID-19, epidemiological research, motor control and rehabilitation. Her COVID-19 related research work has been featured on various platforms such as JAMA Medical News and Perspective, Harvard University- Coronavirus Visualization Team, and the research section of the American college of cardiology.
Series outline:
Editorial
Respiratory disorders and their association with clinical outcomes in COVID-19
Do Vitamin D levels or supplementation play a role in COVID-19 outcomes?
Sleep and COVID-19 Or Women health and COVID-19
Hospital medicine in the era of COVID-19
Effect of COVID-19 pandemic on medical education
Current evidence on the efficacy of statins in COVID-19 patients
COVID-19 and cardiovascular risk: challenges in geriatric population
COVID-19 outcomes in cancer patients
Disclosure:
The series "Latest Research on COVID-19" was commissioned by the editorial office, Annals of Palliative Medicine without any sponsorship or funding. Prateek Lohia and Shweta Kapur are serving as unpaid Guest Editors for the series.